Hey everyone, I wanted to post about some stuff I've played so far this week. But then, I unexpectedly got my race car back from the shop today. In much better shape than expected and much cheaper too. Sure am Glad I got a FOURTH OPINION from a fourth shop. After my car had been out of commission for two years. because two separate shops told me there was an undiagnosable engine issue and they couldn't advise fixing an old car. The Nissan dealer I most recently took it too found out it wasn't an engine issue at all. but a fail safe running in the computer to prevent damage from the faulty cooling system. They were able to fix the issues for less than 15% of what I thought it would cost me.
After 2 Years of sitting it's almost like a Forza Horizon Barn Find. I have a lot of work to do to get it presentable. but I'm working on it and will post about it here at times when I feel I've made some progress.
It is amazing the difference in driving contrast of my two 300zx's the Non Turbo that is my daily driver isn't a slow car. but it seems like a snail in comparison. Also, little things like the clutch and throttle response are 100% different. It made driving home a fun little experience. I was very paranoid about something breaking or over heating again.
I got it home safe and back into the garage. It is in need of a good detailing and some stereo rewiring before I will take it back out. As you will see in the next few pictures there is a lot of clean up to do.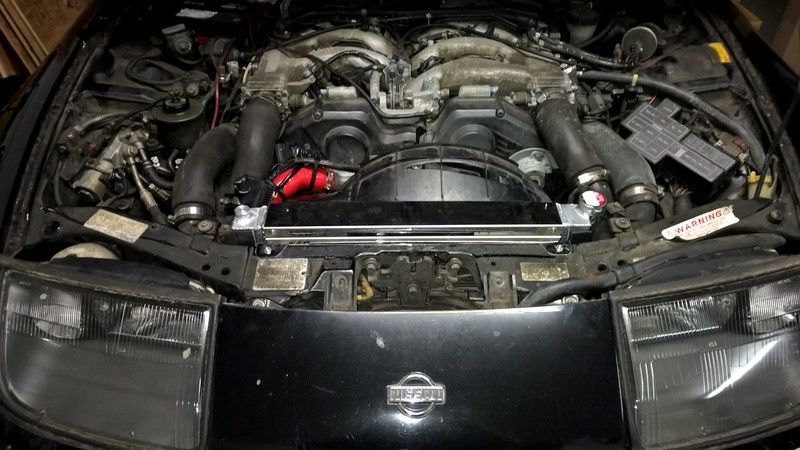 The new radiator looks a little out of place. Way too shiny!
First thing I did when I got home was but on the new throttle body hoses. they made the radiator feel more at home.
But the very most important part of this post is. the fact that I can do this again.