No video this week for the best new releases. There were only two new games released this past week. "Dark Souls 2: Scholar of the First Sin" and "Tower of Guns". For me it's pretty much a coin flip I didn't enjoy either of the games very much. Dark Souls really just isn't my thing. I like to play games to relax and have some fun. To me the Souls series is neither of those things. Due to the suggestion of NiteJokester I did record my first 30 minutes of the game and may still post the video. it's a bunch of cut scene character creation and repeated dying. Tower of guns on the other hand is fun in short spurts but at the end of the day the game is Ziggurat with Guns instead of Wands and Magic. The generic baddies, bland environments and lack of story driven motivation or multiplayer made it near impossible for this game to hold my attention.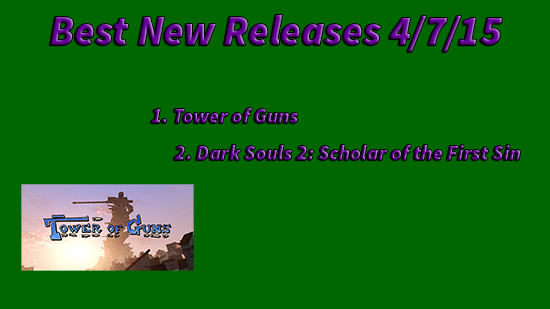 All things considered I personally am choosing "Tower of Guns" as my game of the week. It wins on Coin Flip, Cost, Fun Rating and Not being an "HD" Rerelease. If you enjoyed the Souls games in the past or just like cussing and breaking controllers it's probably a better choice for you.
I'm not looking forward to Next weeks games at all. Mortal Combat is the headliner. Seeing as I really hate fighting games and always have look forward to me playing it anyway and complaining about not liking it. We may See the official release of Happy Wars. Goat Simulator is a strong possibility. I guess we'll just have to see what shows up.
Non New Release Stuff
I didn't get much game time in this weekend But I did accomplish quite a bit in the real world. My first big project was transferring all of my 360 licenses to a new console and attaching an external hard drive to store everything. I was a pit skeptical at first due to the speed of USB 2.0 but then I remembered the 360's hardware limitations and realized everything would be just fine. I wasn't sure if the 1TB drive I had on hand would be adequate for the 360 or if I should run out and by another Western Digital Elements like I use on my travel Xbox One. I opted not to spend the money and went with an external drive I already had. It turns out 1TB will likely be enough for even the most hardcore users. I'm about half way through my nearly thousand XBLA/GoD titles and have used just about 300GB. It is a bit brutal having to redownload every title and only having 20 spaces in the download queue. I'm through D on XBLA and done with Games on Demand. I've also already moved all local content. I should have everything installed in the next week or so.
Aside from that I finally sold my Volkswagon Jetta that had been collecting pine needles in my driveway. I also trailered my Twin Turbo 300ZX down to the dealership to have it "Tuned Up" ha ha yeah we'll call it a tune up. It was weird to wake up this morning with only one car in the drive way instead of 3. I also continued working on getting my Non Turbo 300ZX ready for a paint job. I got four more body panels sanded and primed before I started to worry about rain.
Once I build the new site I will separate the Video Games, Cars, Weird Personal stories into their own tabs. but for the time being posts are just going to be a lot of random thoughts. Thank you to those of you that have taken the time to read any of these post, watch the videos or leave me any feedback. I will try and not skip 5 days in a row this week.